Cosmetotest Symposium on Preclinical and Clinical Testing for the Beauty Industry – 24-26 May 2023 – Lyon
24 May 2023
Cosmetotest Symposium

on Preclinical and Clinical Tests for Dermocosmetics
24-25-26 May 2023
SEPR – 46 Pr Rochaix – Lyon 69003 – France
or
Online
Cosmetotest 2023 opens up to imaging and biometrology and addresses new themes.
For its second edition, which will take place from May 24 to 26, 2023, the symposium dedicated to cosmetic testing plans an additional day on imaging and biometrology in association with the SF2iC*. 55 lectures and presentations will address new topics during these 3 days, at SEPR in Lyon, France.
Organised by SKINOBS and COSMET'IN LYON in partnership with SFI2C and DIIP and with the support of the AURA region and the Cosmebooste project, COSMETOTEST allows cosmeticians from all over the world to listen to academic and applied conferences and interact with participants, to meet testing partners, exhibitors, CROs or instrumentation manufacturers and to participate in equipment demonstrations.
250 participants, 46 speakers and 30 exhibitors contributed to the success of the first edition of COSMETOTEST, on 24 and 25 May 2022, unanimously recognised by specialists in the profession for its quality and its excellent technological and scientific level of expertise.
In 2023, the SF2iC* will shed a particular light on facial exploration tools and new home routines, whether they be skin measurement devices or cosmetic care devices, at home.
During these 3 days, 55 conferences and presentations will address new and innovative themes on clinical tests – Well-aging and mature skin, Hair and nail growth and regeneration, Evaluation of acne-prone skin – and on preclinical tests – Place of organoids, spheroids and organ-on-chip in dermocosmetics, Evaluation of endocrine disruptors, Parallel in-vitro and in-vivo tests. Also to be noted is the intervention of a Social Beauty Therapist on the role of a social beautician in the care and well-being of vulnerable people.
Two convivial highlights are planned for the evening: SF2iC* will celebrate its twentieth anniversary at a Gala on Wednesday 24 May and a cocktail party will bring together the participants on Thursday 25 May.
*French-speaking Society of Skin Engineering and Imaging
TO REGISTER
ACCESS THE COSMETOTEST WEBSITE
Access the whole program
Wednesday 24th May – 9 am to 5 pm: SFI2C Day (Société Francophone d'Imagerie et d'Ingénierie Cutanée)*
* Les conférences du 24/05 sont en français avec une traduction simultanée
Session 1: Cosmetics treatment and home devices
Session 2: Skin diagnostic and home devices
Session 3: Skin exploration
Gala dinner: at 7 pm
Thursday 25th May – 8.30 am to 6 pm: Cosmetotest Clinical Day
Session 1: Well-aging and mature Skin
Session 2: Growth and regeneration of hair and nails
Session 3: Evaluation of prone to acne skin
Free cocktail: 6 pm to 8 pm
Friday 26th May – 8 am to 4.30 pm: Cosmetotest Preclinical Day
Session 1: Endocrine disruptors evaluation
Session 2: The place of organoids, spheroids, and organ-on-chips in dermocosmetics
Session 3: Parallel of in-vitro and in-vivo testing
EXHIBITORS
SPONSORS
ACCESS THE COSMETOTEST WEBSITE
DIRECT LINK TO REGISTER  FOR THE CONFERENCES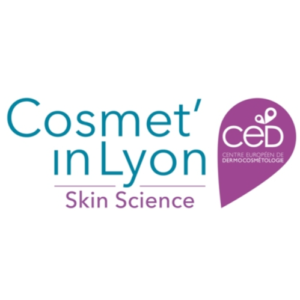 conferences and gala booking
send an email to Marie-Christine Di Murro at cosmetinlyon@cosmetinlyon.com,
Phone: +33 09 50 54 42 02 or +33 06 52 00 39 32.
To be exhibitor or sponsor, please contact Ophélie Rebillard at orebillard@skinobs.com,
Phone: +33 07 88 17 00 14
Watch the video of the latest Edition that has gathered 250 attendees, 46 lectures and 30 exhibitors : Click here
Read the Synthesis of Cosmetotest 2022: Cosmetotest-2022-Synthesis